Saying Good-Bye to Managed Care
Building Your Independent Psychotherapy Practice
by Sandra Haber, PhD; Elaine Rodino, PhD and Iris Lipner, LCSW with a foreward by Karen Shore, PhD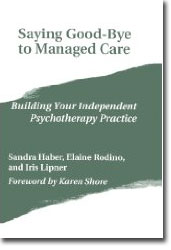 SAYING GOOD-BYE TO MANAGED CARE: Building Your Independent Psychotherapy Practice is available once again in its second printing.
Available in soft-cover at $16.99 directly from Amazon.com 
In the Menu on the left please click on CONSULTATION AND CONSULTING or <click here> for information regarding personal or group consultation for building your independent psychotherapy practice.  Practice consultation is based on the book.  You may continue to read about the book and see reviews below.
The authors of this practical volume highlight easy strategies for developing, building and maintaining a successful and lucrative private pay psychotherapy practice. As successful independent practitioners, they share lessons learned from running their own practice. You will learn to: grow your practice, develop new skills, market your services and build upon your strengths. The authors share useful tips on: getting published, appearing on radio or TV, starting your own newsletter and more.
Comments from Reviewers:
"…If you are a new professional ready for private practice or a seasoned clinician timid about launching as an entrepreneur, take heed. Three distinguished professionals will take you by the hand and give you step by step to set up a practice, enhance its growth and insure its financial success. If you are already in a practice which Managed Care has damaged financially and decreased numerically, specific steps are outlined that can revitalize your practice."
— Elizabeth Phillips, PhD, LCSW
Immediate Past President of the Clinical Social Work Federation
Clinical Professor, Yale University Medical School
"This book is a must for any mental health professional concerned about buidling – or rebuilding a practice in a time of economic change and lessened opportunity. The writers catch our attention in a highly readable form …abound with wonderful practical nuggets for practice building and maintenance"
— Arthur L. Kovacs
Former President, Psychologists in Independent Practice
A Division of the American Psychological Association
Founding Dean Emeritus and Distinguished Professor
California School of Professional Psychology, Los Angeles
"Clinicians who seek to restore for their patients those essential constituents of effective psychotherapy which have been largely destroyed by managed care, and to regain their own ethical integrity will find this book invaluable. The book is filled with samples of successful marketing programs which both inspire and inform. Not only will the reader appreciate the wealth of information this book provides but they will value the highly readable style in which it is written"
— Joyce Edward, CSW, BCD
Founder and First Co-chair of the National Coalition of
Mental Health Professionals and Consumers
"…the tool kit for building the managed-care-free psychotherapy practice. This matter-of-fact, step-by-step guide shows therapists ways to create practices based on self-paying clients. Any therapist who truly wants to say good-bye to managed care should get this tool kit and get busy."
— Ivan J. Miller, PhD
President, Boulder Psychotherapists Guild, Inc.