Building Your Independent Psychotherapy Practice
based on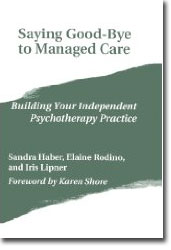 Saying Goodbye to Managed Care:
Building Your Independent Psychotherapy Practice
Consultation and coaching while you are building your Fee for Service Practice
Sessions are individual and personal, and are conducted in person, by telephone or online. You determine your own pace, the frequency of sessions and the topics on which you wish to focus.
Training is intended to help you if:
You are just starting out in private practice and haven't a clue where or how to begin.
You have been in practice but are mired in managed care work and don't know how to develop your own fee for service practice.
You have been employed at a clinic or academic setting and want to develop your private practice.
You have been in private practice for many years and feel you want some new ideas and energy to expand or redirect your practice.
Topics below are Book Chapters. Individual sessions may or may not be limited to these chapters.
Part I: Can I Run My Practice Without Managed Care?
Saying Goodbye to Managed Care: How You Can Do It
Are You A New Professional, Graduate Student or New to Private Pay Practice?
Fast Food Psychotherapy
Part II: All About Money
Money Matters
How To Ask for Money and How to Get It
Watch Your Language
Part III: Carving Your Niche and Marketing Your Services
Are You a Generalist, Specialist, or Both?
Many Paths to Success: The Gold Standard
Value Added Services: Why Other Professionals Need Psychotherapists
It's Moral to Market
Part IV: Basic Tools of the Trade
Stationery and Business Cards
Flyers and Brochures
Part V: Intermediate Tools of the Trade
Speeches and Workshops
Web Listings and Basic Web Pages
Part VI: Advanced Tools of the Trade
Press Releases, Pitch Letters and Authoring a Book
Interviewing for Print, Radio, and Television
Advanced Websites, Virtual Groups, Online Counseling, E-zines and E-publishing
Advertising
Part VII: Putting It All Together
The Final Step to Success: Using What You Know to Create an Independent Psychotherapy Practice
Appendix 1. Annotated Bibliography of Resources